Sign Up for THE DAILY JUDGED VERDICT. Our daily newsletter covers law firm salaries and everything you want to know about changes affecting law firms from people in the know. Sign Up Now!




9.00
9.00
8.69
8.40
8.33
8.25
8.13
8.03
8.00
8.00


2.70
2.86
3.09
3.12
3.12
3.30
3.35
3.46
3.47
3.65

Job Search News from BCG Attorney Search
---
08/10/19
 
Blank Rome Welcomes Consumer Finance Associate in Los Angeles
 
Summary: Scott T. Reigle has joined the Blank Rome's Los Angeles office as an associate in the consumer financial services group.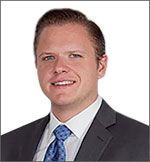 Blank Rome LLP is pleased to announce that Scott T. Reigle has joined the Firm's Los Angeles office as an associate in the Consumer Financial Services group, which welcomed seasoned consumer finance litigation partner Scott D. Samlin to the New York office earlier this month.
 
Scott Reigle joins Blank Rome from Anglin, Flewelling, Rasmussen, Campbell & Trytten. He concentrates his practice on a variety of consumer finance litigation matters, including disputes under TILA, RESPA, FCRA, ECOA, FDCPA, state law UDAP claims, and a variety of common law claims. Scott represents major financial institutions, as well as corporate and individual clients, in state and federal litigation. He is also experienced in advising clients on regulatory compliance, general business strategy, and formulation and implementation of policies and procedures.
 
Admitted to practice in California, Scott earned his J.D. from Washington University School of Law in St. Louis and his B.S. in Business Administration from Washington University in St. Louis.
Top Performing Jobs



Most Recent Topics
1.
2.
3.
4.
5.
Most Recent Messages
1.
2.
3.
4.
5.
6.
Dear Judged
Dear Your Honor, Dear Judge,
Do you ever experience any physical danger in the courtroom? You do deal with all those criminals, right?
Sincerly,
Concerned Bailiff's Mommy
+ more Judged Dear
+ write to Your Honor
Law Firm NewsMakers
1.
News Corp. Considers Splitting

The Attorney Profile column is sponsored by LawCrossing, America`s leading legal job site.
Summary: This is a great question. There are many factors that impact a candidate's ability to lateral from an overseas law firm to a top U.S. law firm.

Enter your email address and start getting breaking law firm and legal news right now!



Articles By Harrison Barnes